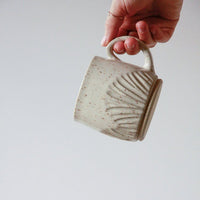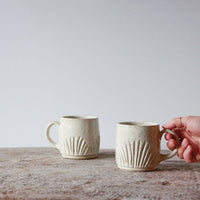 Mug | Small | Seafoam White
One small, handmade, ceramic mug.

Hand thrown on the pottery wheel using speckled clay, carved with "shell line" texture, and finished with a warm-toned glossy "seafoam white" glaze.

Each piece is approximately 8cm tall and 8cm wide, holding about 10 ounces.




As each piece is handmade, no two pieces are completely identical. Please allow for minor variations in shape, size and colour.