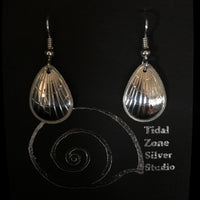 Raindrop Sterling Silver Earrings
Raindrop sterling silver earrings are designed and engraved by island artisan jeweller Laura Dutheil . The raindrops are shimmering with frosted centers to reflect the light .
The artist created raindrops to acknowledge the immense beautiful rainfall that occurs here on Haida Gwaii all year round.
The raindrops are in the symbolic form of water drops. The size of these raindrop earrings are 3/4 inch x 1/2 inch made from .5mil thickness silver, slightly domed and textured.
The initials of the artist are engraved on the back "LD".
Tidal Zone Silver Studio Poetry :
Haida Gwaii Raindrops
Haida Gwaii Raindrops
Crystal Clear
Wet Shiny Kisses from the air
Blessing us with Freshness
on our faces, hands and hair!
*polish cloth included, packaged on branded card and provided with plastic backings on sterling silver shepard hooks. The earrings are put into branded box for protection for shipping. Business card with Haida Gwaii Raindrop poetry is included!
*All Sales Final-no returns