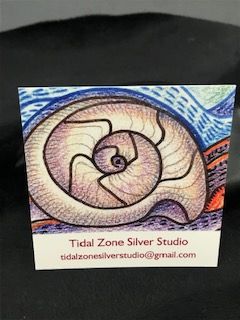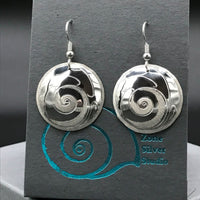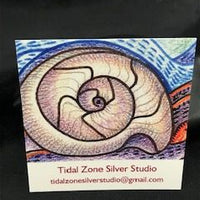 Moon Snail Sterling Silver Earrings
The large round  Moon Snail sterling silver earrings are designed and engraved by artisan jeweller Laura Dutheil.
The back of earrings are engraved with the artists initials "LD" and also the words "Moon Snail".
The Moon Snail earrings are 1 inch round in .5mil (thickness silver) on sterling silver shepard hooks. They are textured and domed and presented on a complimentary branded Tidal Zone Silver Studio card.
*Each pair of these designs are original and may slightly vary in detail.
*Earrings are shipped in grey branded box for protection (3 1/2" x 3 1/2" x 1 1/2"box).
*mini polish cloth & business card included, comes with free plastic backings on back of hooks and mini anti tarnish tab enclosed.
*Tidal Zone Silver Studio poetry is on the back of business card:
Moon Snails Spiral,
On our Sandy Beaches ,
Starfish, Limpets, Clams,
Fill our Tidepools like a Treasure Trove
As Seaweed Tangles along the Shore.
*All Sales Final- No returns
Shipped in self sealing water/tear resistant bubble mailer