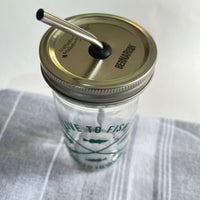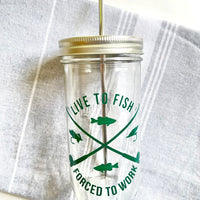 Perfect on-the-go drink-ware while you're heading to the fishing hole, or spending the day reelin them in. This tumbler would make a great gift for that fishing obsessed person on your list. This simple design makes a statement while also being consistently re-usable and ready for the next adventure!

The "Live to Fish" decal is made using a permanent premium vinyl that is water and weather resistant (the same material can be used for car decals)


Mason Jar Tumblers: 
This re-usable drink tumbler is created out of a tall glass mason jar (750ml).
It comes with a straw that is held in place on the lid with a rubber grommet.

Size: 
Width: 3.5'' 
Height: 6.75''
Volume: 750ml / 25oz

*NOTE* Not dishwasher or microwave safe.