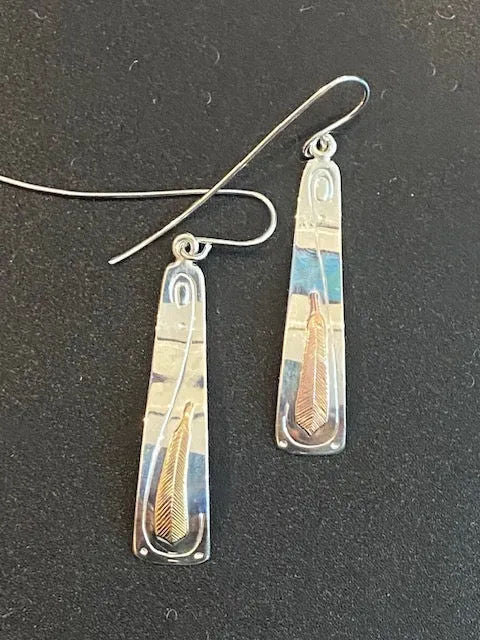 Sterling Silver Earrings With 14K Gold Feather By Walter Davidson
Walter Davidson
Walter Davidson was born in Massett BC, the largest town on Haida Gwaii. Through his mother's lineage, he is a descendant of the Eagle Clan taking the frog as his secondary crest figure, a right also inherited from his mother. He is nephew of the renowned Haida artists Reg and Robert and Reg Davidson, and is a descendant of the Edenshaw family.
Walter began carving in 1999, and has been primarily self-taught since that time. In 1999, he began a three-month mentorship with Dwayne Simeon, a master carver who since 1974, has mentored many artists of the new generation. During his time with Simeon, Walter began to practice the art of jewellery design and engraving.
Walter is inspired by the artists Bill Reid, Fred Davis, and Charles Edenshaw, along with his uncles Reg and Robert Davidson. His grandfather Alfred Davidson was a master canoe maker and boat builder. Along with other master canoe makers of his time, Alfred was commissioned to carve a war canoe for the 1904 Seattle's World Fair, which was later purchased by the Canadian Museum Of Civilization. Alfred's work continues to be a significant inspiration to Walter as he continues to build upon the ancient art forms of his people. Creating a  distinctive style all his own.
In 2010 Walter was given the distinction of being featured artist of the 2010 Olympic Aboriginal Pavilion in Vancouver, exhibiting his jewellery at the Aboriginal Artisan Village and Business Showcase.